Now at 2 convenient locations...
Queensland, Brisbane, Gold Coast
5 Loyalty Street
Pacific Pines 4211
07 5556 0874
Home visits available.
Opening hours:
Mon-Fri 10am-6pm    Sat 9am-1pm    Sun closed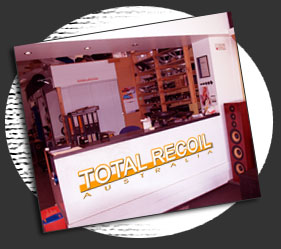 Total Recoil Australia is known both locally and internationally as one of the best in their field for loudspeaker repairs and service. Established in 1989 in Melbourne, Total Recoil has developed and harnessed a loyal customer base from around the country. Customers include audiophiles and enthusiasts, as well as recording studios, musicians and some of Australia's premiere nightspots.
Don't be misled. Total Recoil can revive almost any speaker whether it be for Pro Audio, Home Audio oreven Car Audio through their specialised expertise. More often than not, speakers repaired by Total Recoil will even exceed manufacturer's specifications. Don't hesitate to speak with us about your repair or ongoing service.
And remember that we can save you thousands of dollars on improving or building your sound system. More info here
Regards,